In 2016, WorkSafeBC revised how it calculates penalties against employers, and the effects can now be seen.
One of the big changes was the introduction of an exponential multiplier for repeat penalties. Specifically, for every penalty an employer receives for the same or similar type of violation, the penalty amount doubles from the last penalty. Penalties in a three-year range are caught. While WorkSafeBC's previous penalty policy had a repeat multiplier as well, penalties did not increase as fast. For comparison sake, the below chart shows the difference between the old and the new policy, for an employer with a base penalty of $10,000.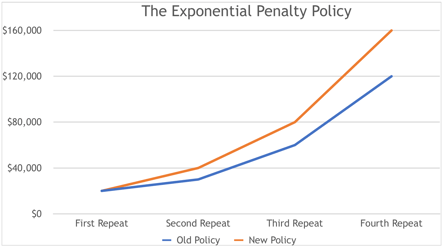 The Workers Compensation Appeal Board – the body that hears appeals from WorkSafeBC – described the mandatory increases under the old policy as being potentially patently unreasonable because they fetter the statutory discretion on issuing penalties (see: WCAT-2014-00781 (Re), 2014 CanLII 43513). As the chart shows, the new policy only increases those concerns.
The effects of the new policy can be seen in the money WorkSafeBC charges employers. In 2015, the last year under the old policy, WorkSafeBC charged $6,258,661 across 528 penalties, for an average of $11,854 per penalty. In 2017, the first year under the new policy, WorkSafeBC charged $8,312,782 but across only 339 penalties, for an average of $24,521 per penalty. That change means WorkSafeBC issued substantially fewer penalties but charged over $2 million more to employers.
These exponential increases raise the real costs of any given penalty. While a small, first-time penalty may not appear worth disputing, the real costs of that penalty include the risk of an exponential increase in later penalties. An employer who decides not to fight a $10,000 penalty may regret that decision when, after the appeal periods have passed on that penalty, the figures start to jump.