In early June, I acted as counsel for the British Columbia College of Nursing Professionals (the largest regulatory health college in the Province) in a two-day appeal. In a future post, I will write about the incredibly important issues canvassed in that appeal, including a challenge to legislation on the basis that the statutory provisions violated section 2(b) of the Charter of Rights and Freedoms. For now though, I wanted to share the experience of appearing in a Court of Appeal hearing on Zoom.
This was a logistically-complicated appeal. There were eight, yes eight, sets of counsel - the original petition applicant, and counsel each for the Attorney General of BC and the College of Midwives. On top of that, five health colleges intervened, including the BCCNP. At the hearing, from what I could see on the attendee list, we had at one time sixty to eighty attendees who attended the videoconference.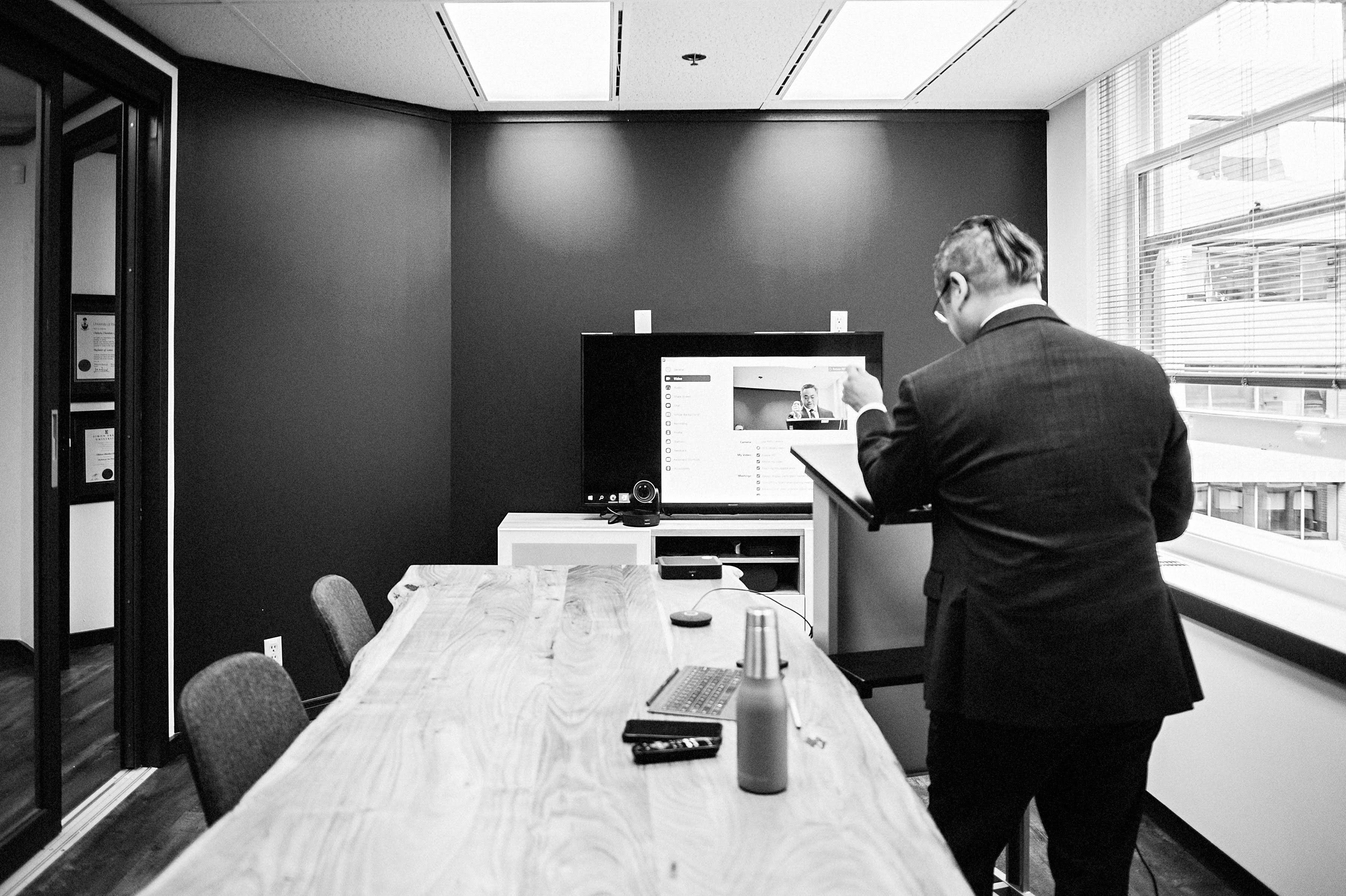 At a high level, the process was not that different from an in-person hearing. The court clerk called us in. The clerk made sure that everyone was online and verified connections. When everyone was ready, she then called in the panel. The Court of Appeal has advised through the practice directive that counsel did not gown. We wore suits. However, the judges gowned. The judges participated from their Chambers. Lawyers participated in their offices. Attendees who were neither judges nor counsel were put into a type of virtual room where their audio and video input was turned off, but they could see and hear the proceedings.
Then, once the case was called, and all lawyers gave appearances, we proceeded like any other appeal. Lawyers gave submissions, albeit in Zoom. Some of us lawyers had podiums set up where we could mimic being at counsel table. Some lawyers chose to present submissions from their desks. Some had co-counsel in the room and others had co-counsel in separate offices. I think we referred to our Books of Authorities and Factums a bit less explicitly. When someone referred to a book, it did take some time for everyone to literally "get on the same page" - though not significantly more time than what it takes in a live hearing. Frankly, I think it improved the quality of submissions. Rather than reading from text out loud, lawyers and judges had to interface directly with each other about the law.
The other side benefit was that I could see counsel as they presented. For those of you who have been in court before, you know that you cannot see counsel very well when they present. You are either sitting behind them (either at counsel or table or in the gallery), or you are sitting beside them and looking up. So, it was interesting to see faces, expressions, and gestures as the judges would see them.
Like a live hearing, you could see the judge's facial expressions, their reactions - the way an argument landed with them. In that way, participating by video was as satisfying as a live performance. You could also see the reactions of other counsel in a way that is not possible when you are always sitting beside them and a few feet away.
I had the advantage of having moved into new offices (at 789 West Pender Street) in the middle of the COVID-19 pandemic. As we were moving in, the changes made by the courts forced us to reconsider the purposes of various rooms. We believed, and continue to believe, that the courts will rely more on teleconferencing and videoconferencing technologies for their hearings. We forecast that we will now meet with clients more online rather than live. So, we decided to turn our boardroom into a broadcast centre with a very large high-definition screen, high-quality cameras and microphones, and speakers that would help create a presence. The first use of this new facility was a great success and we look forward to our next hearing.
There is a certain energy that is lost when we are not live in court. One of the things I love about being a litigator is the feeling of being on your feet and making a point. Even setting up a broadcast room, with the big screen and the clear sound system doesn't quite make up for the loss of connection that comes with speaking to a physical person. That said, videoconferencing got the job done. While I do believe that videoconferencing diminishes somewhat of the majesty of the occasion, it did not limit or diminish the quality of written and oral argument by counsel. When one considers the prospect of making our justice system more efficient, affordable, and accessible, then I think that this technology may become a staple of our system. We'll be ready.